Amazing Products, Call for partner

Plusli

f

e Mini Dock
Pluslife Self Home Covid Test Kit
A portable molecular COVID-19 Rapid Test a
t home with lab-quality results that you could count on.
Pluslife Mini Dock is a rapid molecular diagnostic system for detection of infectious diseases including the SARS-CoV-2 virus. Our self-developed isothermal amplification technique RHAM provides accurate results which are comparable to those of the highest sensitive lab PCR tests.
Easy to use and small in size allows you toperform test at home in 35 minutes.
RHAM, Isothermal Amplification Technique
The assay is based on RHAM, a self-developed isothermal amplification method. SARS-CoV-2 N gene is selected as the target region, based on which probe and primers are designed. In RHAM, target sequence is largely amplified and recognized by probe. When the probe hybridizes to the complementary sequence generated, it is cleaved and fluorescence is emitted. The device automatically detects and analyzes fluorescenve signal, reporting results with indicator lights. The assay includes internal control for monitoring of sample collection, processing, and amplification to reduce false negative results.

Clinically Proven
The test is clinically proven to have PCR quality molecular accuracy. In the clinical studies that included individuals with and without COVID-19 symptoms, the test achieved 94% sensitivity and 100%specificity.
Limit of Detection
400copies/mL
What is the differents between Pluslife COVID-19 rapid test and antigen test?
Comparing to antigen test which detects specific proteins on the surface of the virus, Pluslife Mini Dock detects the presence of viral genetic material even at low levels and at different stages of an active infection (with or without symptoms), therefore there is a much lower chance of false-negative results and the assay is more accurate.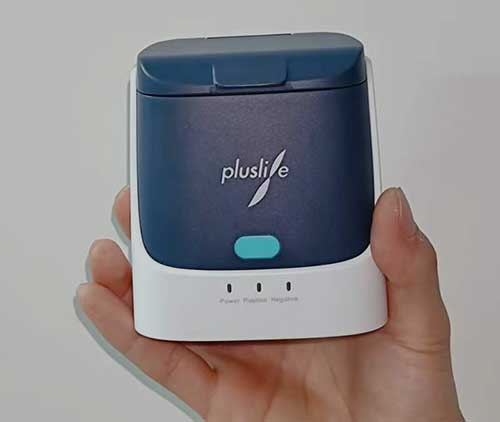 Features
Plusllife Mini Dock portable molecular POCT system is an innovative, unique rapid test.
ACCURATE
Based on RHAM (self-developed isothermal amplification technique), it provides alevel of accuracy comparable to gold standard qPCR (Quantitative real-time
PCR) tests.
FAST

Detect positive results in as soon as 10 minutes and confirm negative results in 35 minutes.
EASY

No special operating skills require and anyone could run the test at home in few simple steps.
POWERFUL

Pluslife Mini Dock is reusable and could perform tests not only for COVID-19, but infectious diseases such as STDs and more.
ACCESSIBLE

Designed for both professional use in point-of-care test (POCT) and use at home, at work, at travel or in the community.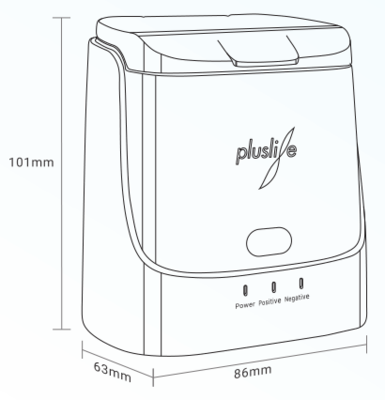 Specifications
Product Name Pluslife Mini Dock
Model No. PM001
Power Supply DC5V/3A
Net Weight 240g
Dimension 101mm x 86mm x 63mm
Operating Environment 15°C-30°C
Storage - 20°C~+55°C
Related Topic
Pluslife portable molecular POCT COVID-19 rapid Nucleic Acid Test gets CE Mark